According to forecasts, 2022 is the year where online videos will make up more than 82% of all consumer internet traffic—putting platforms like YouTube, TikTok, Instagram at the center of any digital marketing strategy.
But how can you use video marketing to generate highly qualified leads or even hit a given marketing goal?
In this article, you will learn how to turn your video content into a lead-generating asset and make the most of it.
Turn Your Video Content Into a Lead-Generation Asset
Although 74% of B2B marketers believe that video converts better than any other type of content, many companies still struggle to harness the potential of video marketing.
In a study, Wistia found that only 22% of B2B brands use video content for lead generation purposes. So, one can assume that the other 78% are not doing it because they either have no idea how or are doing it the wrong way.
Actually, if you want to generate leads using video content, it makes sense to turn your videos into a lead-generating asset before expecting any results, especially if you are in the B2B space.
Think about it, while dancing cat videos can generate results in a B2C context, it won't cut it if you're selling products to businesses.
Here are two lead-generating assets you'll need to leverage to get results:
On-site knowledge base.
Video course (Can be onsite, offsite, or both).
The first type of asset is gated, while the second type is not—especially since its purpose is to engage viewers.
A great example of an on-site knowledge base is the Hubspot Academy, home to much free gated content curated by Hubspot.
Hubspot Academy
On the other hand, Yoast is a perfect example of a brand that leverages on-site and off-site video courses on its site and Udemy.
The Benefits of Your Lead-Generating Assets
The first benefit of planning your video digital marketing strategy around a lead-generating asset is that it allows you and your entire marketing team to have a 360-degree view of how to direct your video creation efforts.
The second benefit is that these assets can be used to fuel the top and middle of your sales cycle. As a result, your website will get more engagement and traffic from people who simply want to be informed or make informed purchase decisions.
The third benefit is that, when gated, your video content can help you collect email addresses—which can help you turn some visitors into leads and ultimately into customers.
Note that regardless of whether it is off-site or on-site, your lead-generating asset will still generate results. For example, if you host courses on Coursera or CXL, you can tap into the audience engaging with your courses on these platforms and win new leads.
Things To Consider When Creating Lead Generating Assets
VA video content that acts as a lead generation asset must contain several things to be effective.
It must be based on a popular search query.  
As controversial as it may sound, leads are a byproduct of web traffic. Think about it, before you can convert a visitor into a lead, you need to have visitors first. That's why it's essential to choose a keyword that has a search intent—this way, your video can rank and generate traffic on its own.
It must be aligned with the products you sell. 
According to a study, most of the 1,000 most frequently searched prompts on search engines are how-to questions. Meaning that your audience/viewership has a gazillion problems, and they expect you to help them find solutions. So make sure your videos cover problems your product solves and position yourself as the ideal solution.
It should not be too specific. 
An Ipsos' study on advertising found that both visual and written content wear out. This means that if you don't diversify your video content, it will wear out—and lose engagement. You'll want to add fresh videos regularly to re-engage your current viewers, which a super-specific topic won't give you the flexibility to do.
It must be relatable. 
Not only does your video content need to align with your overall brand values, but it also needs to be relatable from the viewers' perspective. So instead of going heavy on brand awareness, try to double down on brand affinity. Think about it—just because someone knows your brand doesn't necessarily mean they will buy your product.
Adobe is a perfect case study to illustrate the above criteria. They have a course on Photoshop on their website and Udemy. Each course requires the use of Photoshop, which is an Adobe product.
When you search for the Photoshop course, you will find that the course on Udemy ranks first and the one on adobe.com ranks second.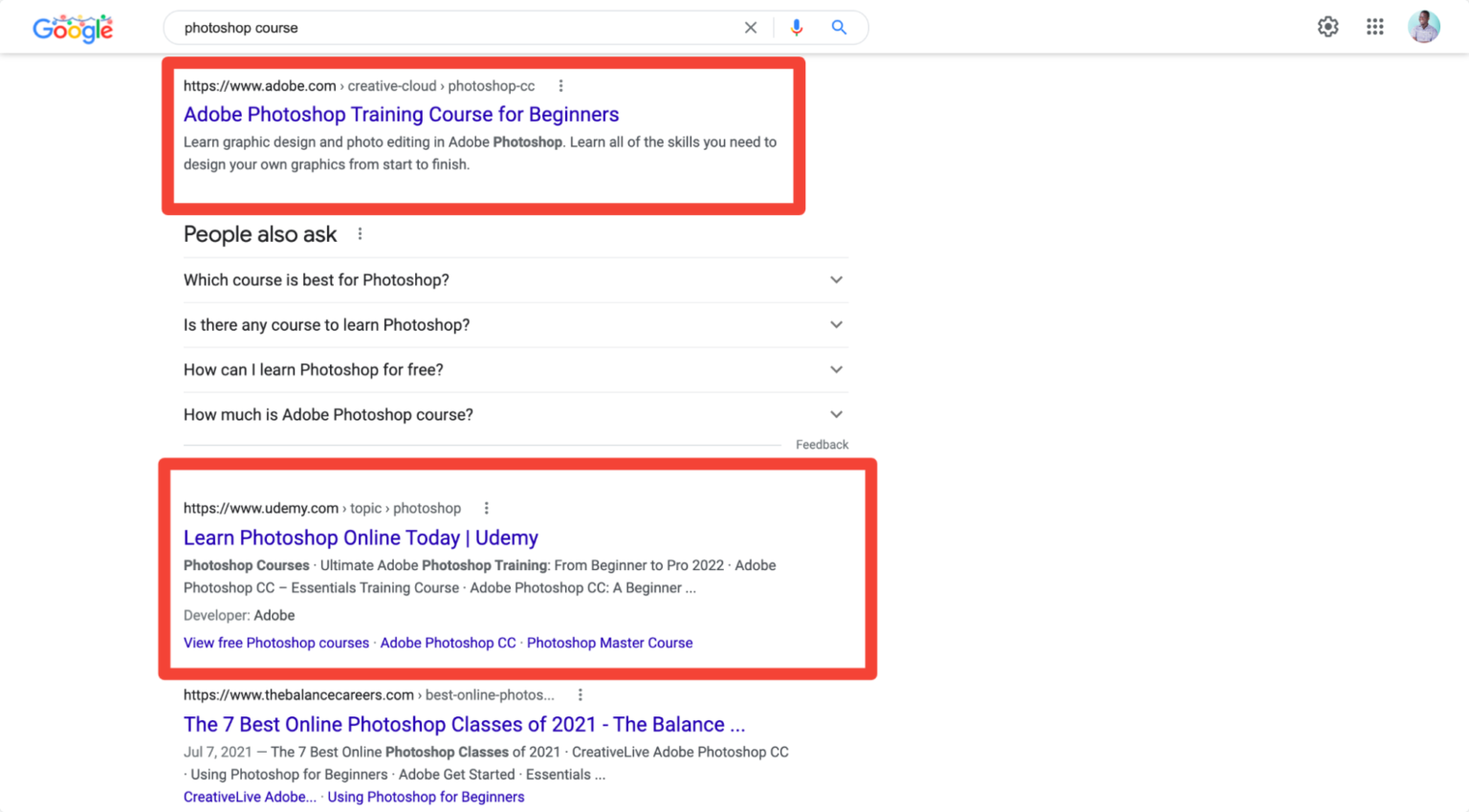 Adobe Photoshop Course
Plus, Photoshop is a vast topic, so Adobe can keep adding content as they create it.
Now that you know what makes a great lead-generating video content, here are some types of videos you can leverage to get optimal results.
Choose The Right Video Type to Fuel Your digital Marketing Strategy
Below are three types of videos you can leverage to generate more leads.
Influencer-backed videos
CXL and Fullfunnel.io are perfect examples of companies that put influencer-driven video content into action.
CXL partners with experts (influencers) to produce free and paid courses and often webinars.
CXL partners with experts
You don't have to pay to watch these videos, but if you want to get a sneak peek or access these courses, you have to opt-in with your email addresses and names. CXL uses this video digital marketing strategy to fuel its courses' subscribers base.
Andrei Zinkevich and Vladimir Blagojević from Fullfunnel.io use the same strategy except that their content is free to access and does not require opt-in.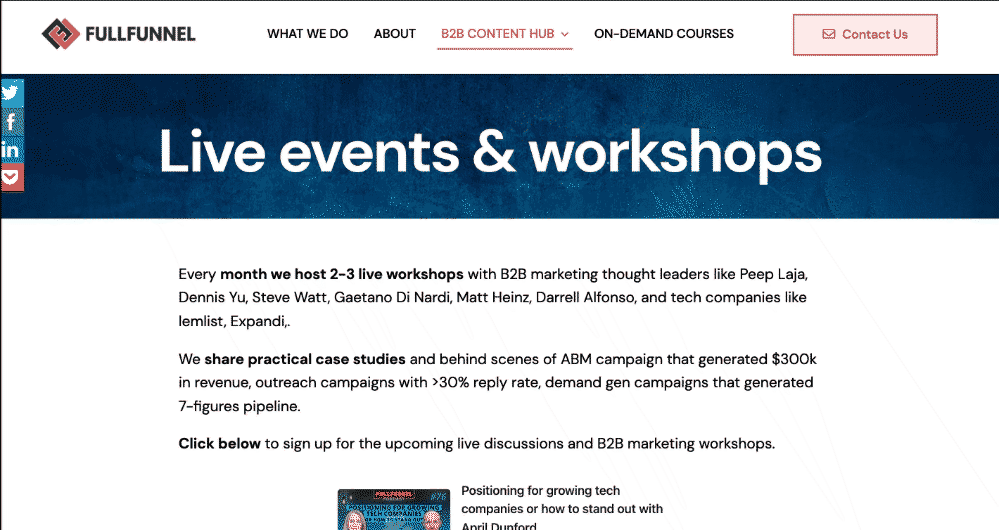 Fullfunnel.io
On the other hand, the end goal of their webinars is to build awareness, help viewers solve their problems, and position Fullfunnel.io's services as the ideal solution to viewers' problems. So far, this strategy has helped them grow the demand for their service.
The beauty of this type of video content is that it lets you tap into the fan base and authority of guest influencers to fill your lead pipeline before and after the video sessions. It's the ideal way to educate, engage, and convert leads—all at the same time.
Demo videos
Whether you are selling a SaaS product or any other solution to B2B brands, chances are you are already leveraging demo videos.
Demo videos, contrary to popular belief, make significant content assets. For example, Wistia uses demo videos to educate their audience and as a channel to make a query (place a form or even include a CTA at the end of the video). And Vidi uses them as a FAQ to clarify user questions and engage them even more.
Salesforce is another example of companies that leverage demo videos as lead-generating assets. Salesforce gates each of its product demos so that visitors have to exchange information before they can access the company's resources.
Testimonial videos
Ninety-two percent of consumers trust a brand that someone has recommended to them, even if it's a stranger. Couple that with the fact that people trust testimonial videos more than traditional text-based testimonials.
By inviting your established users to create video content (testimonial videos) to recount their experience using your product, your soon-to-be customers and prospects will have a more objective idea of the value proposition of your product.
Testimonial videos are also a type of user-generated content that allows companies to move prospects quickly through their sales cycle and accelerate the buying decision. In fact, these types of videos add credibility—it's not just you saying what can be done; it's actual users showing how they benefit from your product.
Repurpose Your Video Content to Suit All Your Marketing Channels
Creating and editing a video takes a lot of time, so there's no reason to use it only once.
Here's what Michael Pirone, co-founder of Vidico, has to say about it.
"You can leverage many distribution channels to get the word out about your videos and your product. Spend time getting to know your target audience and share your videos where they will have the most impact."
Here are three ways to make your videos work as a marketing flywheel.
1. Repurpose the video on your blog. 
A study showed that videos are 50 times more likely to appear on the first page of Google than text results. So by posting your videos on your blogs like Neil Patel and CoSchedule do, you're more likely to rank and engage your audience.
2. Add a full transcript next to your video. 
Doing transcripts for your videos has two benefits. The first is that transcripts attract search engines with relevant keywords, which in itself is a ranking factor. The second is that transcripts provide an opportunity for backlinks and internal linking. Without text, there is none of that. The other advantage is that visitors who don't want to watch the whole video can still browse the transcript.
You can also put your transcripts together and turn them into gated downloadable content.
3. Create short videos. 
In this age of TikTok and Instagram, short-form video is KING. However, not every B2B brand has its audience on TikTok. In this case, you can share these videos on LinkedIn. A great example of this is Chris Walker of Refine Labs.
Chris Walker of Refine Labs
His short videos on Linkedin get thousands of views and serve as an awareness and nurturing campaign for Refine Labs.


As a reputed Software Solutions Developer we have expertise in providing dedicated remote and outsourced technical resources for software services at very nominal cost. Besides experts in Digital Marketing We also build web solutions, mobile apps and work on system integration, performance enhancement, cloud migrations and big data analytics. Don't hesitate to Get in touch with us!