With more people than ever buying online a key differentiator for your eCommerce business is to ensure super-low friction and consistently outstanding UX at every touchpoint in shopping journeys.
Because of the pandemic, eCommerce growth has accelerated to unprecedented levels, meaning that more people than ever are shopping online. And inevitably, more people are shopping using their mobile phones. Therefore, making mobile UX intuitive and super-low friction must be a priority for eCommerce businesses.
ONS data¹ show that UK internet sales as a percentage of total retail sales have grown significantly: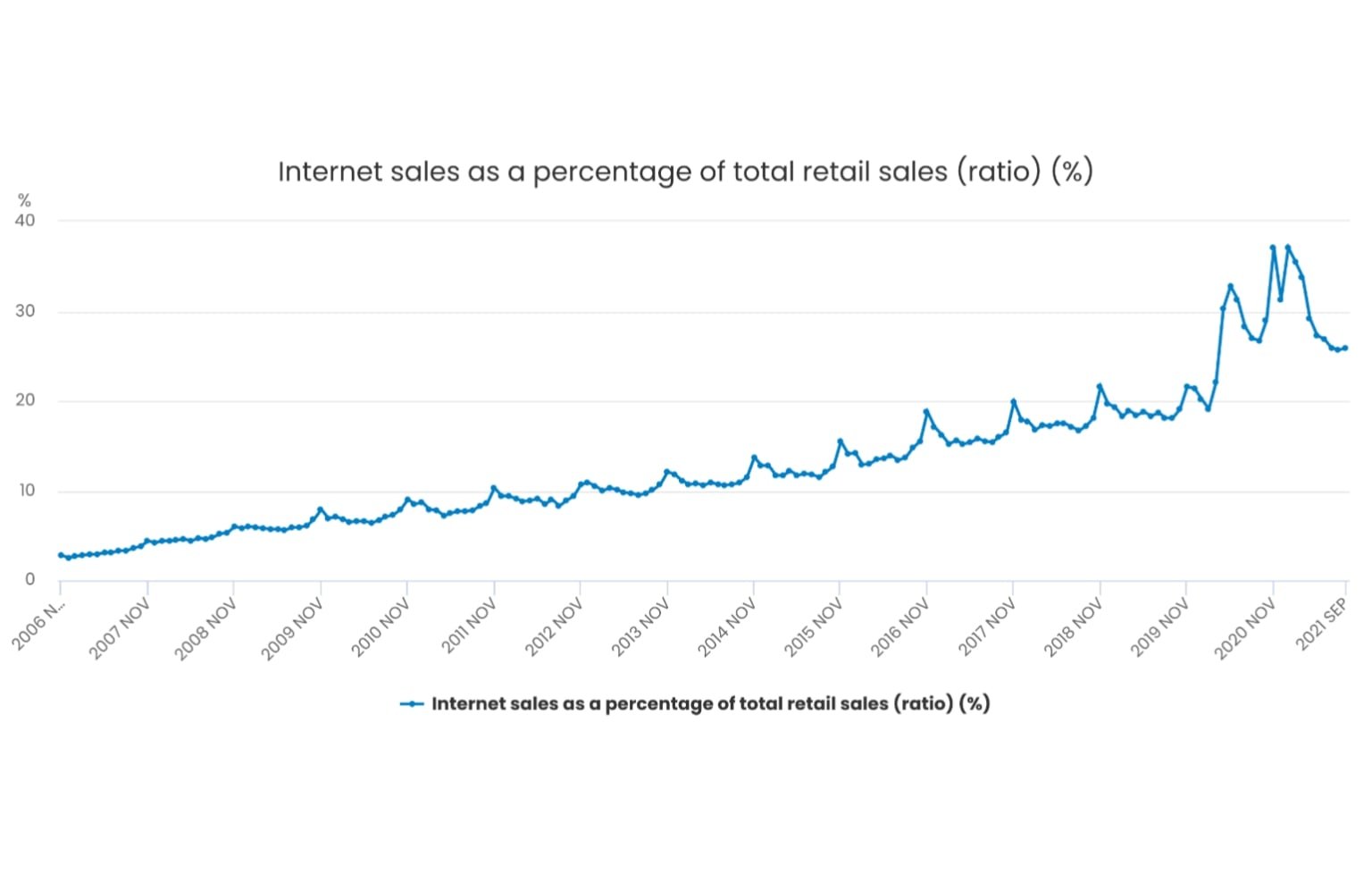 19% in February 2020
Peaking at the January 2021 lockdown with 37%
Plateauing at 26% in September 2021
The challenge for eCommerce is not only to offer consumers outstanding UX, but to do so at all touchpoints in their shopping journeys—especially on mobile.
Omnichannel Shopping
67% of online shopping in the UK is done on mobile.2
Creating consistent, seamless user journeys can be complex. The rise of omnichannel shopping means that UX designers must consider not only website navigation but the whole user experience across more touchpoints than ever before, as omnichannel experiences become the default expectation for consumers. For example:
It used to be that if a consumer wanted to buy a product they would go to an online store on their desktop or laptop, browse, perhaps compare a few online stores, and then make the purchase from one of them.
Now, if a consumer wants to purchase, say, a new laptop, they might initially research online using their mobile phone, beginning with a Google search, then look at YouTube videos about the best laptops to buy, read some UGC, related blogs and articles etc.
The consumer might then use a computer at home to visit a laptop brand's website and maybe have a live chat with a representative. This might lead to an email exchange. The consumer may then visit a brick-and-mortar store to experience the product in the real world—to touch the laptop and feel the key action.
And then, having perhaps narrowed their list down to two or three products, they might take a day or two for consideration, with the purchase finally made from a third-party online store offering the best price.
This one-of-many scenario shows the complexity of a typical omnichannel shopping journey, from research to purchase. Given the number of routes a consumer can take on that journey, creating intuitive, consistent UX is a challenge that retailers must rise to for end-to-end consumer engagement, on desktop and laptop, in-store, and crucially on mobile.
67% of online shopping in the UK is done using mobile.3
Mobile UX Design
Mobile UX differs from desktop/laptop in several important ways. Perhaps the most obvious are screen size and user interface (UI).
Screen size is an important factor in UX design. Having a significantly smaller screen to interface with means that what works for desktop/laptop fails drastically on mobile. The smaller screen size requires a different approach as page layout needs to be designed for 6 or 7-inch screen space, which is about halved once the on-screen keyboard opens.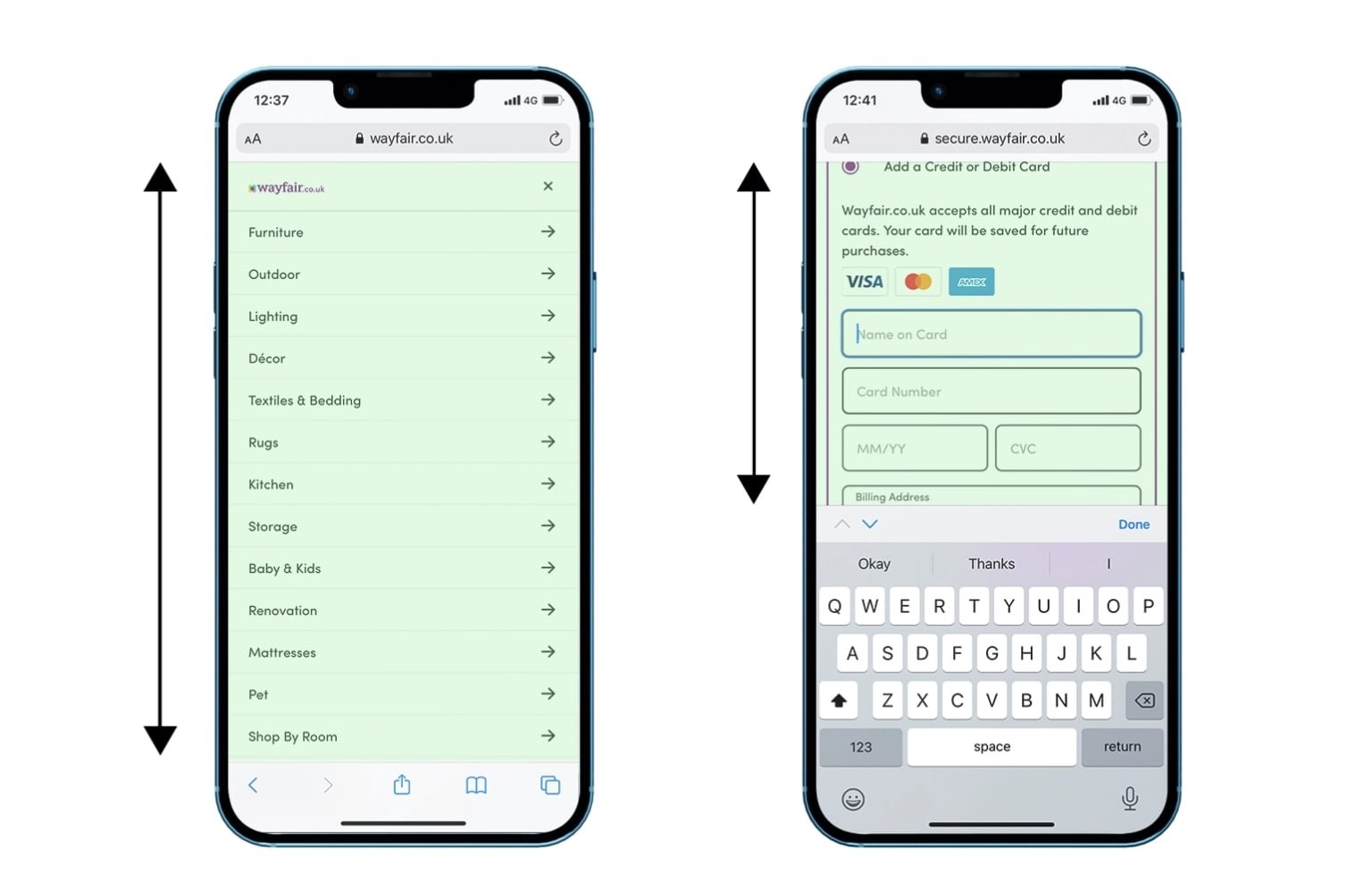 A mobile page shrinks down to about half the size of a typical business card. That provides a significant challenge for mobile UX designers.
Add to that mobile tap and swipe UI, as opposed to point and click, and changing screen orientation, and mobile UX takes on its own dimension, quite separate from desktop/laptop.
47% of UK consumers are put off from purchases by poor mobile UX design.4
Other mobile UX elements are important too, such as which UIs to use, menu design, keeping the cognitive load low, using haptics and on-screen feedback, clear and simple signposting, and the list goes on.
There are also mobile UX features that we don't see on desktops/laptops that can offer businesses greater opportunities to engage consumers and enhance UX. They include tap-to-call phone numbers, store location and directions, social media interaction, digital wallets, QR codes etc.
But perhaps the most valuable UIs for engaging consumers are a mobile camera and microphone.
Reverse Image Search
Reverse image search is where a consumer has an image of a product, either from a website, social media or a photo taken on their mobile phone, and then uses that image to go shopping for the item pictured.
This type of eCommerce search enables consumers to find products quickly, even if they don't know the correct name of the product. For example, a person might see a bag that they really like, but don't know the bag type or brand.
To find out where to buy the bag all they have to do is take a picture of it on their mobile and perform a reverse image search for product information and purchase options.
The reverse image search AI will scour online stores to find matches for the source image, enabling the consumer to find products quickly that would in a series of text searches take a lot longer and would be higher friction.
Using high-quality, well-tagged, original images in your online store will help your products stand out from competitors, so they are less likely to get lost in a sea of stock images when consumers perform a reverse image search.
Augmented Reality
Augmented reality (AR) in eCommerce is a technology that enables consumers to combine their physical surroundings with digital content, using their mobile phones. The digital content could be images, animations, or video, all creating a combined physical/digital world experienced through a mobile screen.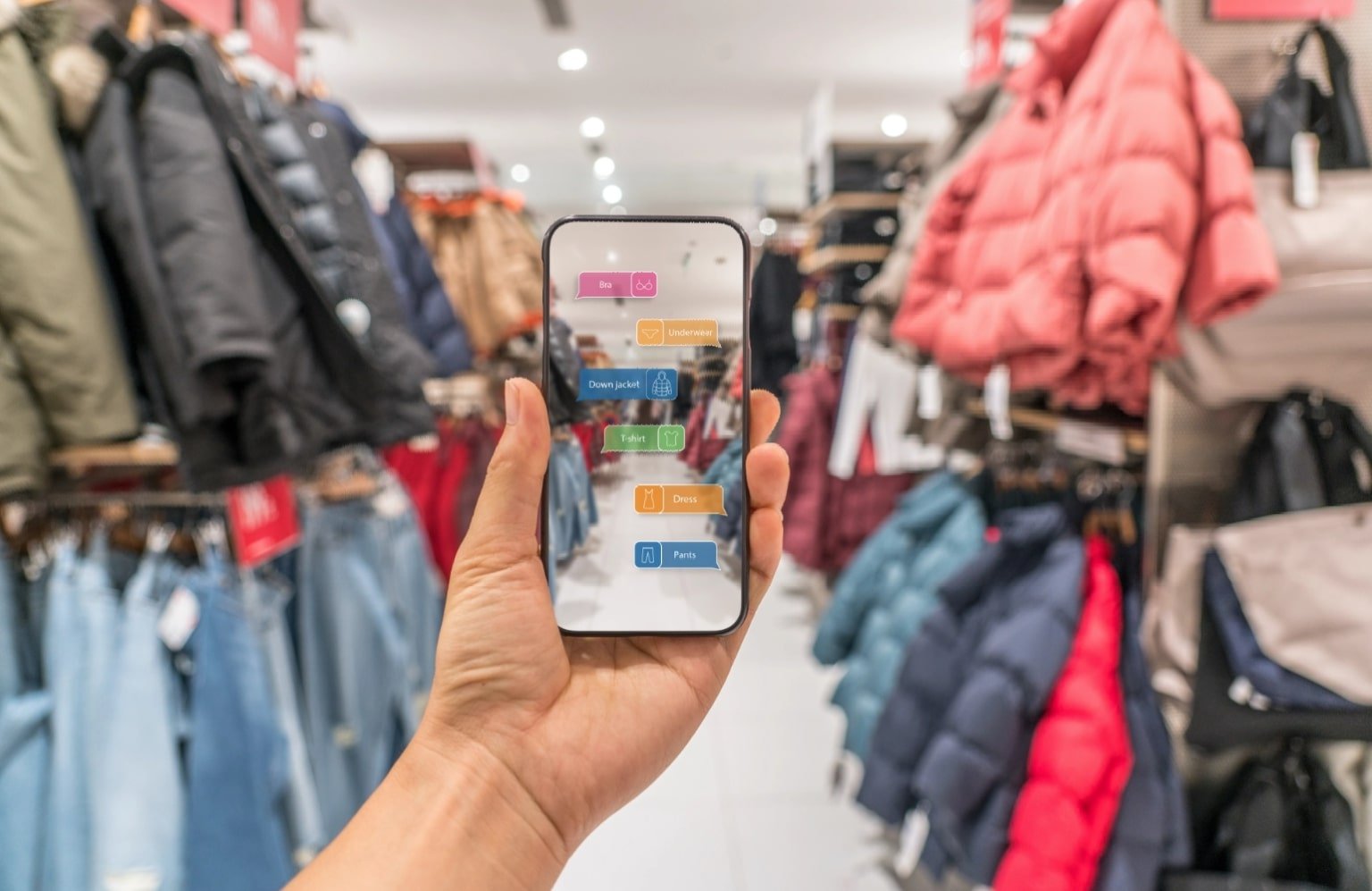 Some products are easier to sell online than others. Items that traditionally need to be tried on, such as clothes or glasses, items that will be used in a particular context, such as furniture, and high-ticket items can pose a challenge for online sales.
This is where AR enables consumers to better visualise how a product will look, either worn or in a given situation, to help them make a more informed buying decision, resulting in higher conversions, happier customers, and fewer returns.
Here are some examples of eCommerce businesses that use AR to help consumers choose the right product and to nudge them towards conversion:
Ikea was a pioneer of AR with its Place app, to help people see what furniture items would look like in a situation.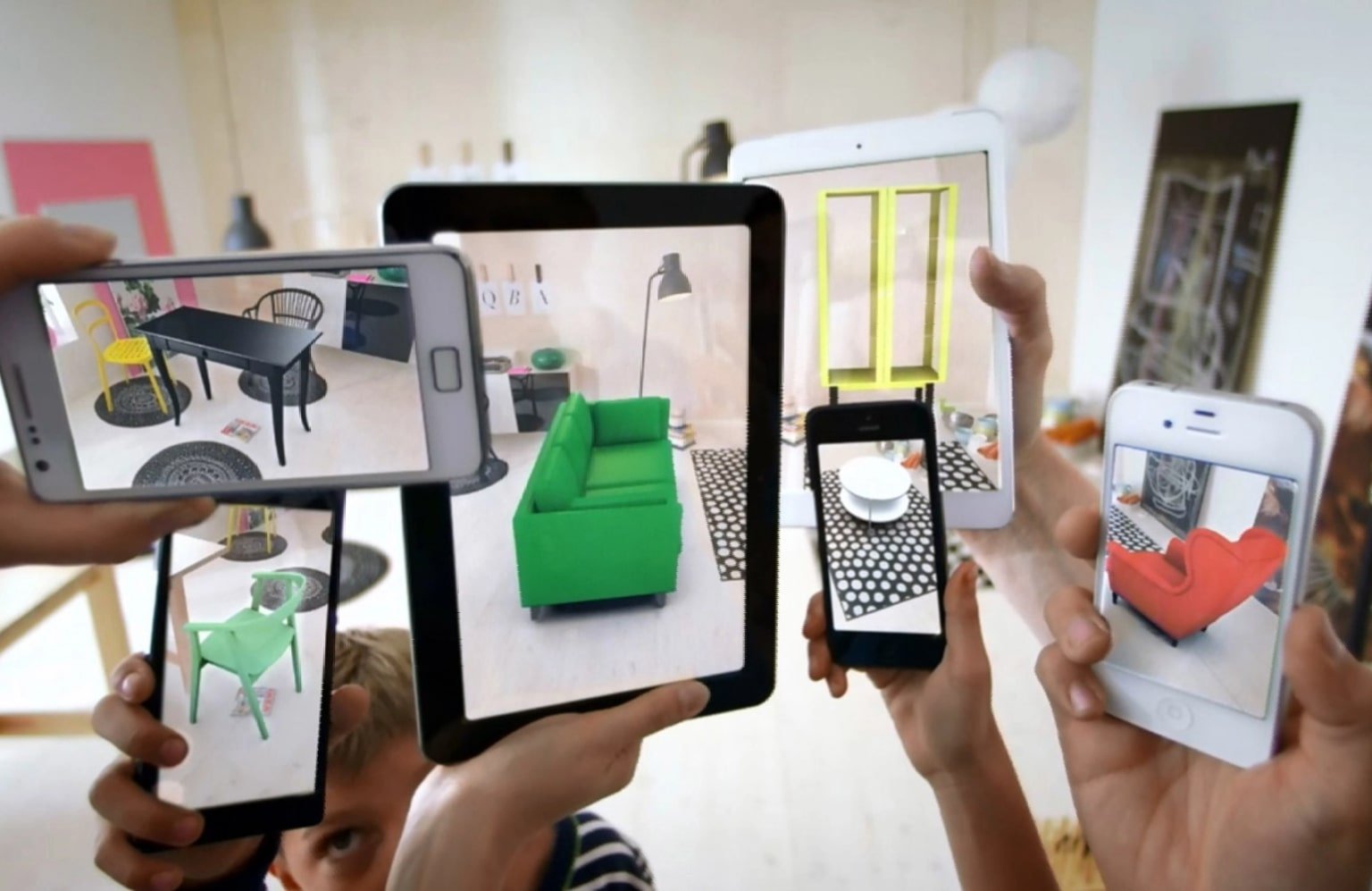 Dulux uses AR to help consumers visualise how paint colours will look on their walls, so they can see on their mobile screen what the finished job will look like. The Dulux Visualiser app enables consumers to see how more than 1,200 paint colours will look in context with a real-life room. This solves the problem of trying to visualise how a tiny square colour sample will look over an entire wall.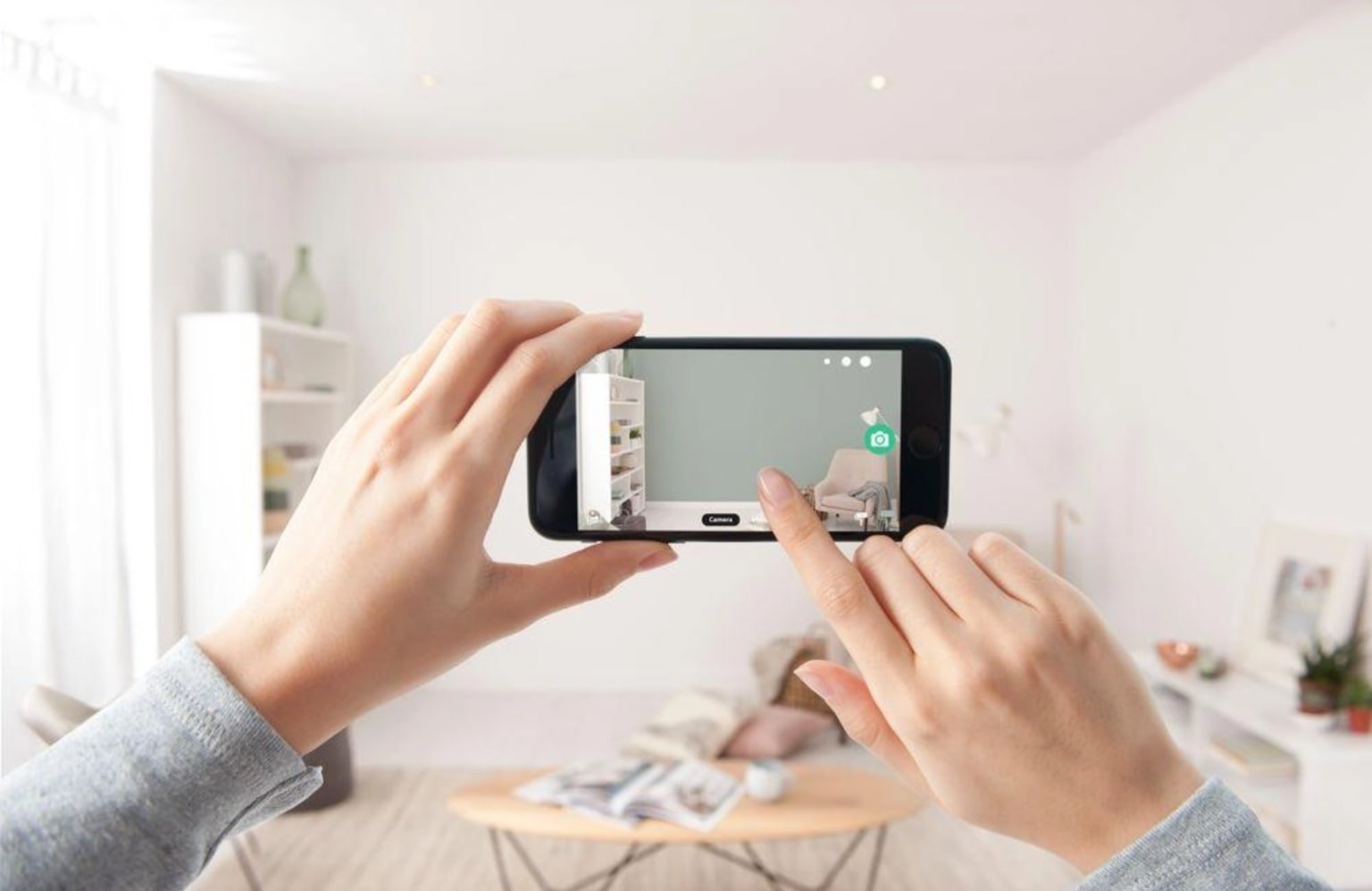 There are other AR apps available that improve UX. For example, L'Oréal's ModiFace enables customers to 'try on' makeup products and compare hair colours. Where ModiFace is available L'Oréal has seen a three-fold increase in conversion rates.5
AR empowers consumers to make more informed purchasing choices. It also helps engage them with more relevant and valuable shopping experiences. Consumers that can interact on a deeper level with the products that interest them will be more likely to trust your brand and business compared to competitors that don't offer that level of engagement.
61% of consumers said they prefer stores with AR over those without it.6
Voice Search
One of the drawbacks of mobile phones is the tiny onscreen keyboard. Some people are fine using it, but many find it more difficult to type with compared to a desktop/laptop, taking longer to type and making more typos.
It takes time to perform a text search. Consider the difference in time between typing a search phrase on a tiny keyboard to just saying the phrase out loud. That's why voice search on mobile is popular.
In addition, UX is greatly improved by voice search as it's much more conversational. With a text search, consumers are likely to type in a few keywords, such as product name and perhaps a location. Voice search natural language processing (NLP) gives the interface a much more natural feel, with longer search phrases used—as though speaking to another person.
The positive mobile UX benefits here are clear, but there is an added benefit for businesses too. Longer-tail keyword phrases give you the opportunity to hone SEO for greater online store and product findability.
Given that conversion rates are often lower for mobile commerce than for desktop/laptop, leveraging voice search for mobile makes business sense.
Mobile traffic conversion rates are around 2.25%, with desktop conversions around 4.8%.7
Final Thought
Creating consistently outstanding mobile UX is vital for eCommerce success, for improving customer acquisition, conversion rates and customer retention.
Companies that focus on UX holistically, offering the same level of UX across all touch-points so that their customers experience a single, unified shopping experience on any device, online or in-store, and on social media, will better meet customer expectations, increasing customer loyalty and brand equity.
Providing omnichannel experiences and implementing new technologies will for most eCommerce businesses present significant operational and budgeting challenges, and because of this will be part of long-term strategy, if on the radar at all.
One thing that can be done relatively easily towards these goals is to ensure that your mobile UX is consistent and engaging, offering intuitive, super-low friction shopping journeys across all devices.
Is your eCommerce giving consumers outstanding shopping experiences? If you would like to know more about mobile UX design or would like advice on how to optimise mobile UX, then get in touch today for a chat with our expert team.
References:
1 https://www.ons.gov.uk/businessindustryandtrade/retailindustry/timeseries/j4mc/drsi
2 https://dontdisappoint.me.uk/resources/finance/mobile-commerce-statistics-uk/
3 https://www.statista.com/topics/5888/mobile-commerce-in-the-uk/#dossierKeyfigures
4 https://dontdisappoint.me.uk/resources/finance/mobile-commerce-statistics-uk/
5 https://www.thedrum.com/news/2019/07/02/conversion-rates-triple-when-l-or-al-uses-ar-tech-showcase-product
6 https://thinkmobiles.com/blog/augmented-reality-retail/
7 https://www.salecycle.com/blog/strategies/mobile-conversion-rates-lower-desktop/
As a reputed Software Solutions Developer we have expertise in providing dedicated remote and outsourced technical resources for software services at very nominal cost. Besides experts in Digital Marketing We also build web solutions, mobile apps and work on system integration, performance enhancement, cloud migrations and big data analytics. Don't hesitate to Get in touch with us!