Today Direct email marketing has been emerged as the most successful way to reach out to the people. A well-pitched targeted email can increase the conversion rate multiple time. 80% customers prefer email as the best method to reach out. However, an irrelevant email campaign without any value addition for customer is a spam in actual.
In this article we will explore eCommerce email marketing and offer insights on how to measure and improve conversion rates.
What is Email Conversion Rate?
A conversion for an eCommerce website is any desired action taken by a consumer which reflects his active engagement on your website. A desired action varies from making a purchase, content download, newsletter subscription to allowing notifications etc.
In same pattern for eCommerce email marketing a conversion is simply an intended action taken by customer after his active engagement with email. The intended action in email can be a click to make customer to continue an abandoned transaction, to get feedback about product or service or to promote a special offer.
An email conversion rate will be the ratio of number of emails which prompted desired actions to the total number of emails sent. For example, an email marketing campaign that generates 20 desired actions e.g., visit to website out 200 direct emails, the emails conversion rate will be 10%.
What is a Good Conversion Rate?
To be specific, for an eCommerce, the main conversion goal is to complete a sale either directly or through some incentives or special offer or by nurturing customer relationship. So, a good conversion rate will be anything that ensure higher sales conversion ecommerce website.
Four differ customer actions: open rate, click-through-rate, click-to-open-rate and unsubscribe can be used to create valuable success metrics for email campaign performance.
Open rate depends on topic, subject line and its relevance to the subscriber.
Click-through-rate (CTR) is the ratio of subscribers who clicked the element within the email i.e. link, image or video etc to total email sent. It gives insight to w   shows the
Click-through-rate (CTR) shows how many subscribers clicked on an element within the email.
Click-to-open rate
Like CTR, click-to-open-rate (CTOR) is the ratio of subscriber clicked the element to the subscriber who opened the email.
Unsubscribe rate the number of customers who have chosen to unsubscribe your mailing list. It again depends on the content of the email
The conversion rate for email marketing is sector dependent. Conversion rate goal should keep into consideration competitor's performance and should be based on benchmark data.
Factors affecting Conversion Rate Metrics
Hitting Your Target Audience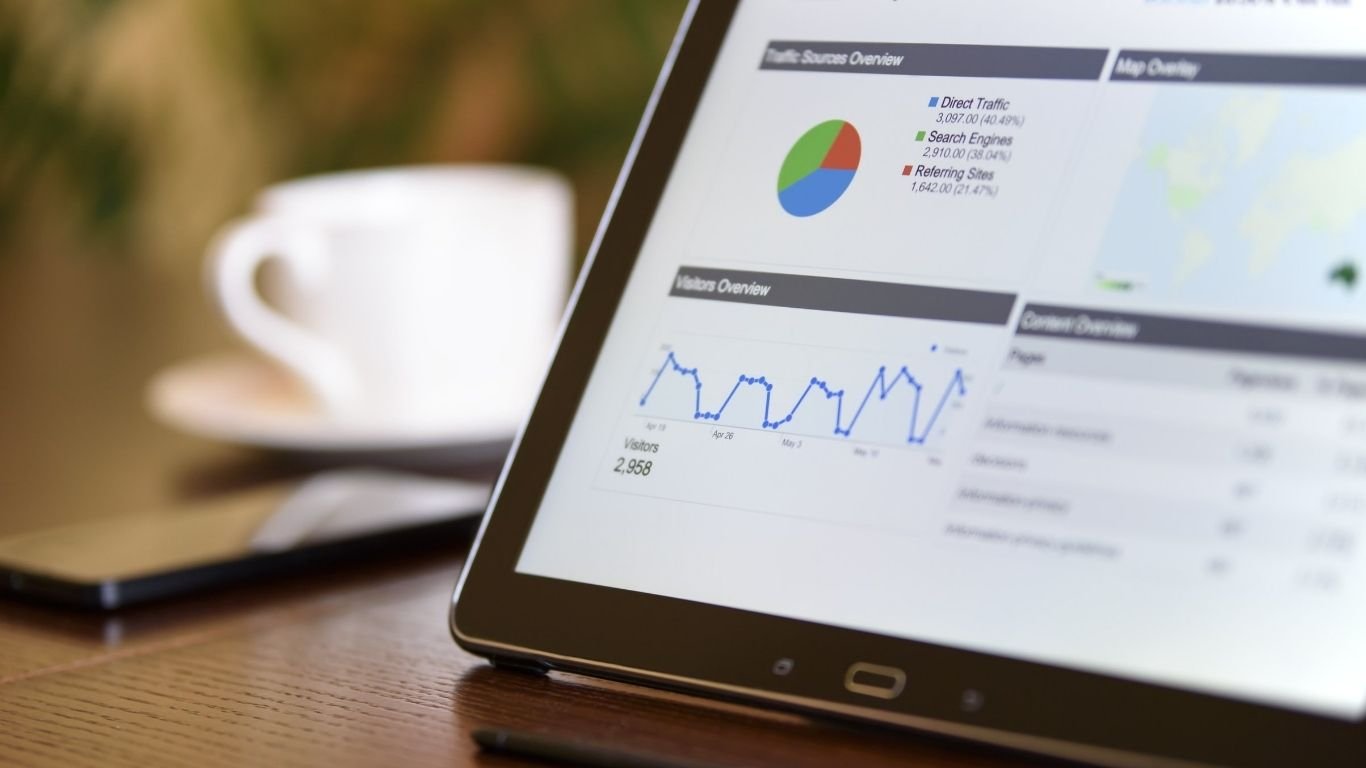 Higher conversion rates for email campaign depends on targeting the right audience. Targeting need segmenting customer database based on customers traits, their preferences and their shopping habits.
A targeted emails can serve variety of purposes from delivering personalised content, customer specific offers, cross-selling and upselling to shopping cart recovery.  A relevant, valuable email content will be more engaging and will ensure higher conversion rates.
Segmentation
The fact is, many email marketers don't segment their email databases, simply sending to everyone and hoping for the best, hence the term 'email blast'.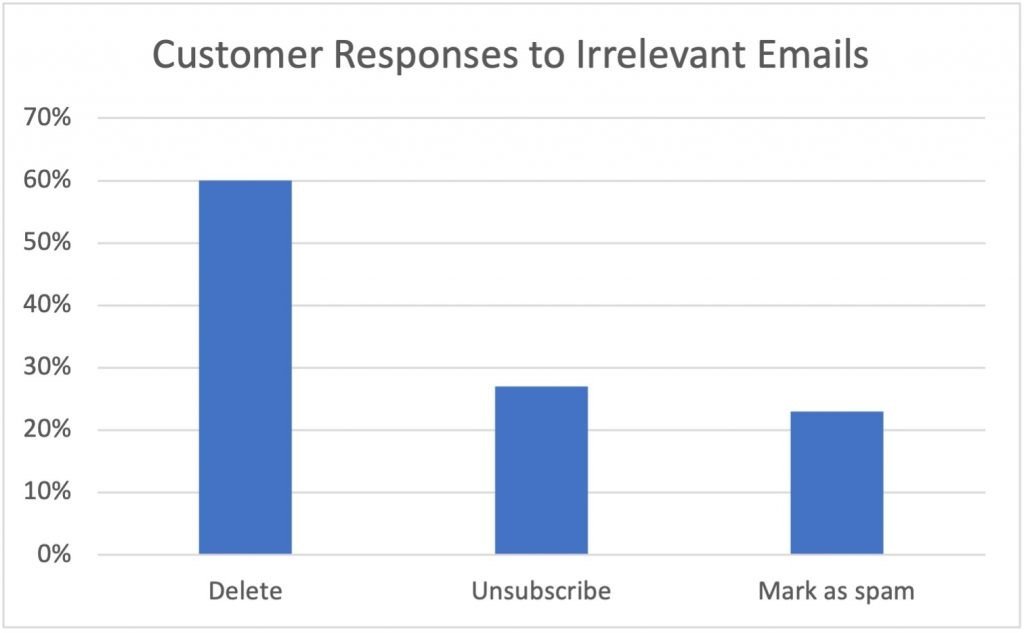 Source: SuperOffice
Sending emails without customer data segmentation increase irrelevant emails sent to subscribers causing lower open rate, CTR and CTOR and unsubscribe rates. Research shows common reactions to irrelevant marketing emails:
Businesses that use segmented campaigns note as much as a 760% increase in revenue.
Based on relevancy to brand and business, customer data can be segmented based on various criteria.
Geographic location
A geographically relevant sales offers can increase the email conversion rates significantly. Mail meant for UK customers will be irrelevant for Chinese and Australian customers.
Age
For the success of email campaign Content, tone, and look of email can be adjusted based on the age factor. Email campaigning for subjects, stories, articles, offers and promotions relevant to young people will be junk email for old people.
Customer Profile
Segmentation based on customer profile can tell a lot about their interests likes and dislikes. Purchase history, Transaction values can help to promote relevant products or services to customers.
Browsing behaviour
Frequency of Products and pages viewed on website can be helpful to get idea about customer preferences. An email campaign for the tips on using website will be more relevant and successful for new customers
Types of eCommerce Marketing Emails
Cart Recovery
A Baymard Institute study found that, on average, 69.8% of shopping carts are abandoned prior to purchase, with that figure being even higher for mobile shoppers.
A shopping cart recovery emails is considered as the most successful methods to increase conversion and sales. These mails are automated email meant for consumers who have items in cart but abandoned online store before payment.
Recovery emails gives reminder about abandoned cart  as well as direct CTA link for checkout.
Recovery emails remind consumers about the items left in their cart, giving them a directly back to checkout. For higher ticket items offering an incentive to complete the transaction can be effective, such as a discount code, free shipping or other promotional offer.   Cart recovery emails have a significant impact on conversion rates. Best practice suggests sending three recovery emails over a given time period: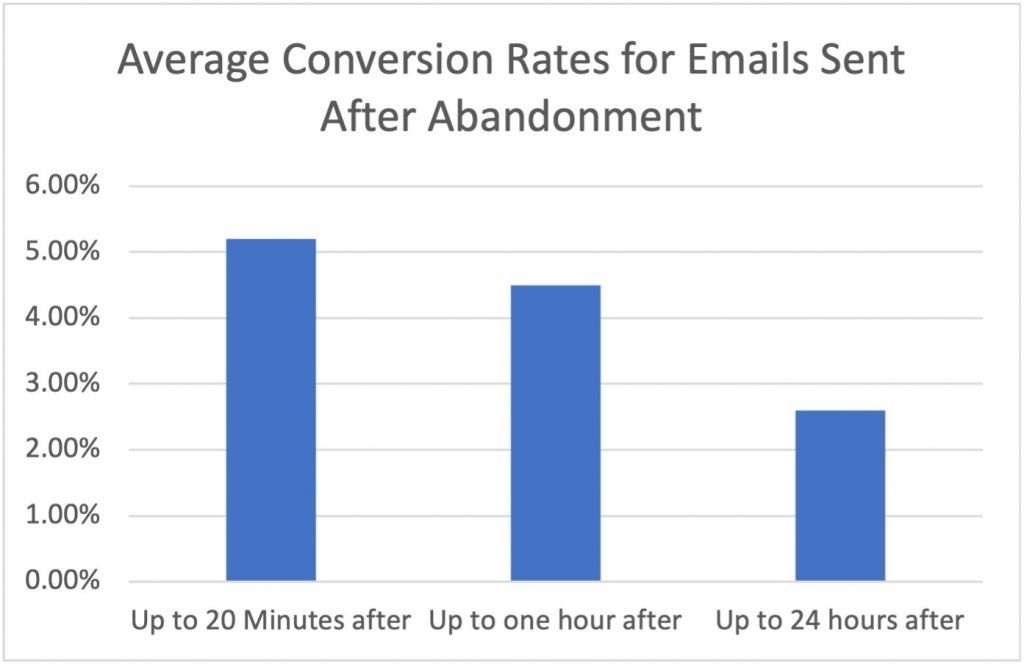 Source: SaleCycle
The graph above gives you a reasonable idea of what conversion rates to expect from cart recovery emails. But it's not a hard and fast rule, and you may find that over time your conversion rate average is a little higher or lower.
Referral
Customer data can be used for lead generation, to spread positive word of mouth. A little incentive to customer base can promote the business tremendously.
Re-engagement
Customer retention is five times economical than customer acquisition. A good strategy for higher conversions can be to reach out the loyal inactive clients.
Related Products
Customers with buying intents can be further targeted with relevant emails related to upsell products based on recent purchases. These products can be accessories, consumables and associated items.
Final Thought
In this article we have touched on some important elements that impact conversion rates in eCommerce marketing emails, from defining email conversion rate, measuring it, and improving audience engagement to help increase sales, as well as building positive customer relationships for higher customer lifetime value.
The way to ensure better emails marketing conversion is to monitor, optimize and test the campaigns. eCommerce businesses whether large or small, often partner with a specialist eCommerce marketing agency to get the results.
Are your eCommerce marketing emails optimized and targeting right audience? Connect to us to find how a strong eCommerce marketing emails strategy could benefit your business. Get in touch today to chat with our eCommerce marketing expert  .